Nine months of brand and product consultation for Fatherly—the leading digital media brand
for dads
2018 · Services: Product Direction / Brand Identity / Art Direction / Design
Co-founded by Michael Rothman and Simon Isaacs, Fatherly is the leading digital brand for young parents. Fatherly is dedicated to providing its readers with news, expert advice, first person perspective, product recommendations and more—everything you need to know to raise kids and be a better adult in the 21st century.
Fatherly generated 1.4 billion video views from Facebook in the last year, was named Oprah's favorite website of 2016, and won the 2017 Webby Award for "Best Parenting Site on the Internet." Fatherly is backed by BDMI, UTA, SoftTech VC, Lerer Hippeau Ventures, The Knight Foundation and prominent angels such as Gary Vaynerchuk and the founders of Bleacher Report among others.
The Challenges:
Brand, Product & Design
I worked with Mike and Simon on the original proof of concept for Fatherly in 2013: the email newsletter.
In May of 2017, they reached out again—with no fulltime in-house product, design or engineering resources, Fatherly contracted me to address a wide range of brand, product and design needs. Reporting directly to COO Michael Wertheim, I was brought on to help Fatherly:
Refine & articulate a concise, memorable, and inspiring company vision through discussions with staff about competitors, previous competitor research, and really understand the 'why' of Fatherly. Articulate company goals and risks.
Understand & redefine KPI's as they relate to product.
Understand customers to improve product execution, influence future design efforts, and effectively meet business goals. Review existing data, determine future research necessary, develop basic user personas.
Perform usability audit of current product.
Review SEO audit documents and help determine where we are in execution of major recommended items and use them to inform any further site redesign/rearchitecturing.
Help to determine long-term navigation for the site
Help to evaluate our current dev/product resource and how he can best help us moving forward.
Help set out best practices for managing product in the short-term and recommend staffing in the longer-term—including full-time staff and freelancers.
Over the nine months I consulted with Fatherly (through early 2018), my role and responsibilities expanded to interim Product Director and Design Lead. I led a company-wide brand strategy process and the redesign of the website's article page and homepage.
I refreshed the company's visual identity and created a comprehensive guide to editorial art direction and video graphics summing up months of discussions and tests on social with the editorial and social media teams.
As a parent myself, I even got to write about the "7 Best Videos on YouTube (According to my 21-Month-Old Toddler)." Overall this project is the best representation of the value I aspire to provide to all clients who face multifaceted brand and product challenges as they grow their audiences and their overall business.
Refining the Brand Strategy
As Fatherly's audience grew and distribution plans evolved, the company was publishing to many channels. Understanding the brand voice and how it could help inform day-to-day editorial, video, audience development, partnership and product decisions, became a pressing challenge raised from within these departments.
Reaching consensus with a large group of stakeholders can be tough. I ran an extended brand offsite for a dozen representatives of the departments at Fatherly including the leadership team. The goal was to first share an understanding of the brand challenges and then come to agreement on open questions related to the brand and how it would inform the work of each team within Fatherly.
I organized the brand offsite into a series of exercises and focused group discussions on topics including Fatherly's brand voice, unique offering and positioning. The group's decisions this day were included in a brand strategy document shared with all employees. They also informed the subsequent homepage redesign process, connecting brand with larger product and business objectives.
The biggest takeaways were a revised mission statement, a narrowing of audience focus, refined brand characteristics and a range of position statements on tough issues that could serve as guideposts (e.g. "Our politics? We're against anything that harms kids.")
Using data to inform editorial art direction
Imagery for any stories shared on the internet is incredibly useful at driving clicks. But a compelling image not only helps draw our attention, it can enhance our understanding of the emotions or point of view in the story itself, even adding another layer of meaning.
Many parenting sites rely on stock photos of "kids doing things" or snapshots to art their stories. Since Fatherly's editorial offering is more than just a "dad blog" we knew we wanted to elevate both the impact and emotional relevance of story imagery. I worked closely with editorial and social media teams at Fatherly to develop visual strategies for story art within each section of the site.
We tested variations and treatments for individual stories on social to determine which story art approaches drove the most clicks. I compiled these learnings, along with some insights from the brand strategy discussions (e.g. how to incorporate vintage images, staying fresh and "on brand"), into a comprehensive guide to Fatherly's editorial art direction.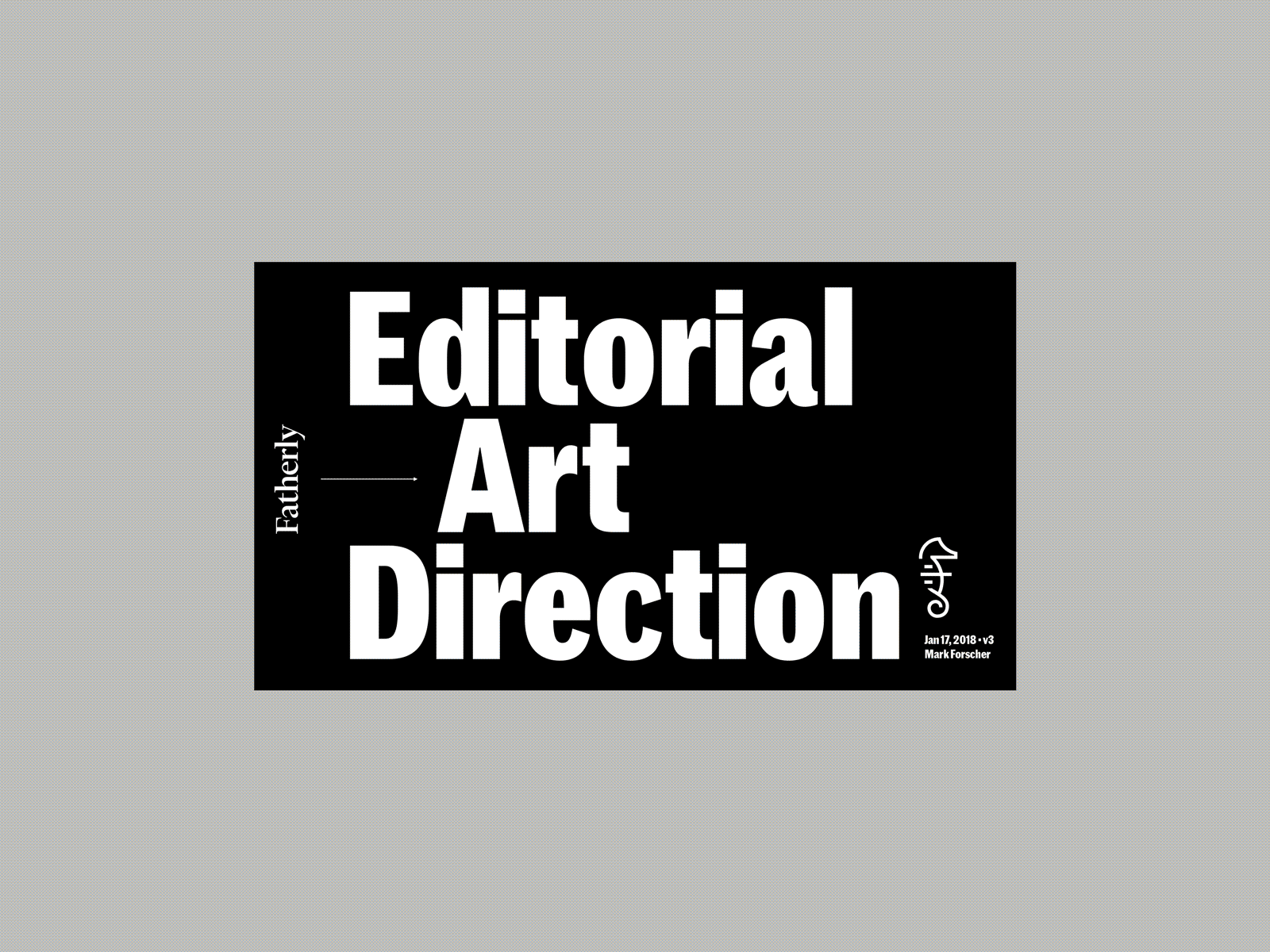 The Product:
Mobile First
In 2017, "89 percent of Fatherly's traffic [was] on mobile" with "2.5 million monthly uniques" and a reach of "75 million people on Facebook each week." Like many publishers, most mobile traffic is from social to individual articles. My first major product initiative was to update the site's article template and navigation. Goals included:
Improve the reading experience and representation of the brand by elevating the design to reflect Fatherly's position as a leading editorial publication in the parenting space
Increase newsletter signups
Increase engagement by offering relevant and related content
Secondary goals also addressed:
Improve navigation to related sections
Improve engagement with relevant content in infinite scroll
Provide better in-house promo space
Provide placement opportunities for related video
Make editorial categories more pronounced so advertisers understand how we're 
covering content that ties into their verticals
Optimize page load and ensure full integration with ad & event tracking
For this phase I served in both the product and design capacity: from gathering requirements and defining objectives, to designing the user experience and working with a mix of contract developers and the excellent Division Of (a NYC-based agency I referred to Fatherly, who worked on the site's development and QA) to ensure a smooth launch and minimize impact to editorial workflow.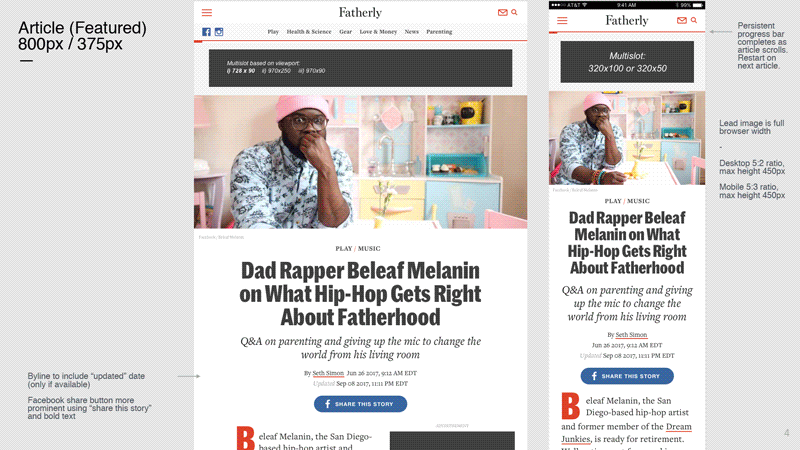 A new homepage, visual identity and refined wordmark to elevate the brand
As part of the homepage redesign, I refined the Fatherly wordmark, keeping the distinctive appeal of the original but updating the wordmark to strengthen the letterforms. As a result, the new wordmark better reflects Fatherly's position as the leading parenting site for dads, and scales well to all sizes‌—a challenge with the old wordmark.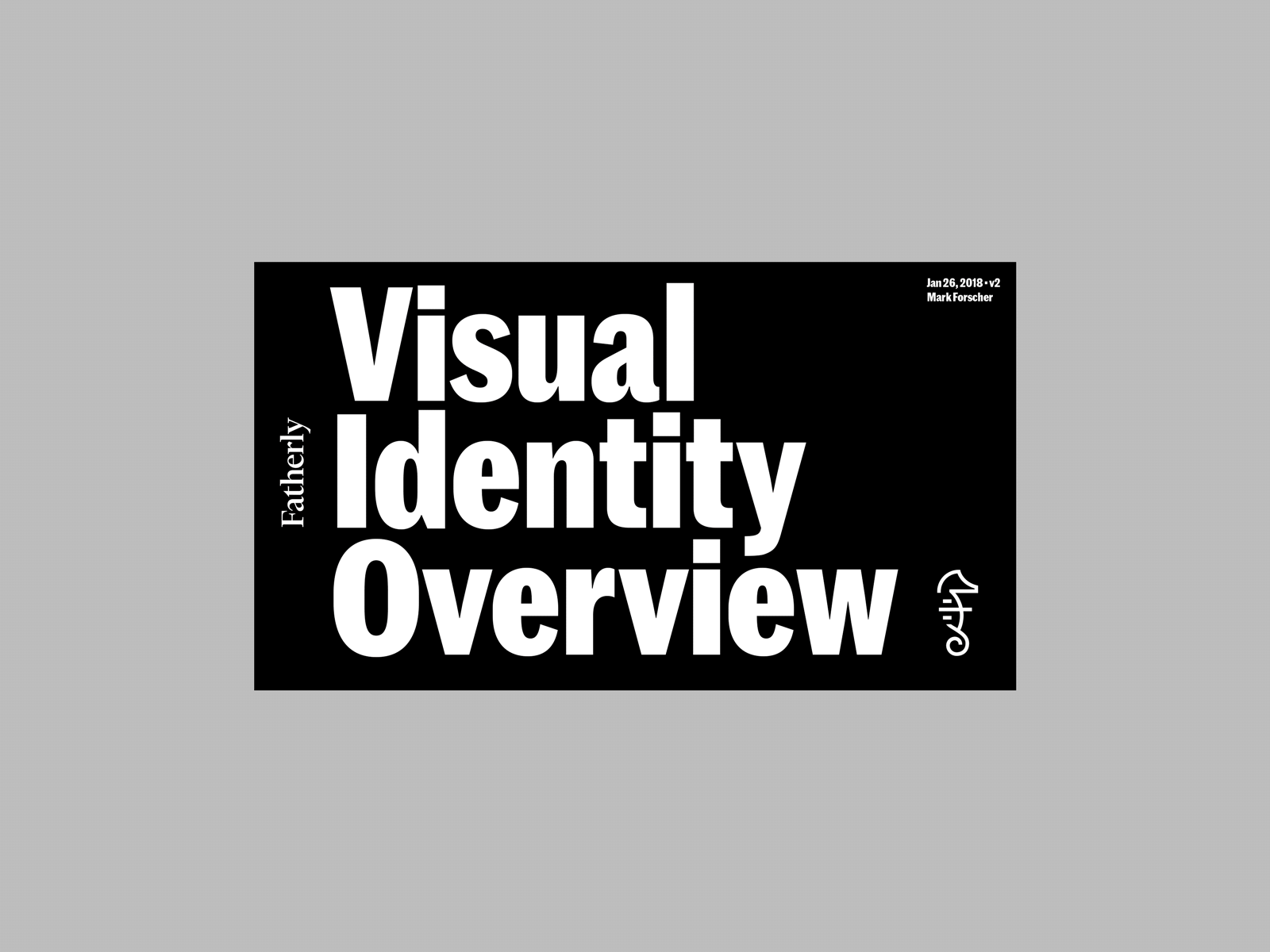 "The seahorse is the only creature in which the male gestates the eggs," Mike Rothman said. "And it conveniently looks like an F."
The seahorse was widely regarded as synonymous with Fatherly, an employee had it tattooed on his arm, so changing the brand symbol was out of the question. We did break the "lock-up" approach (in which the Fatherly wordmark and seahorse symbol were used together) to give the company much more flexbility in how the brand was expressed visually.
Creating secondary brands for editorial franchises & initiatives
As part of the design and brand work I did for Fatherly, I created the visual identity for many secondary brands and editorial franchises, such as the "Father of the Year" awards and the Fatherly podcast.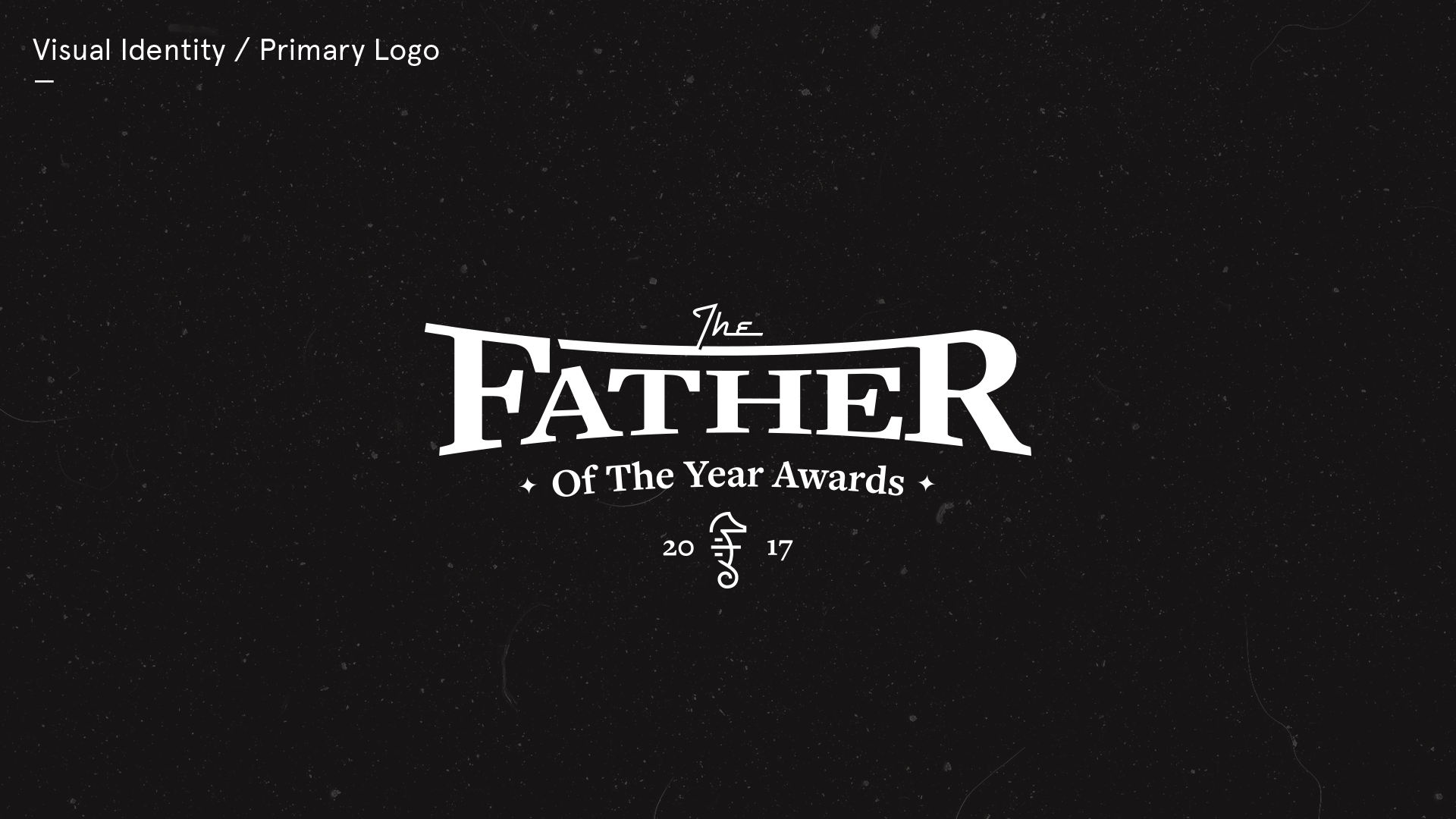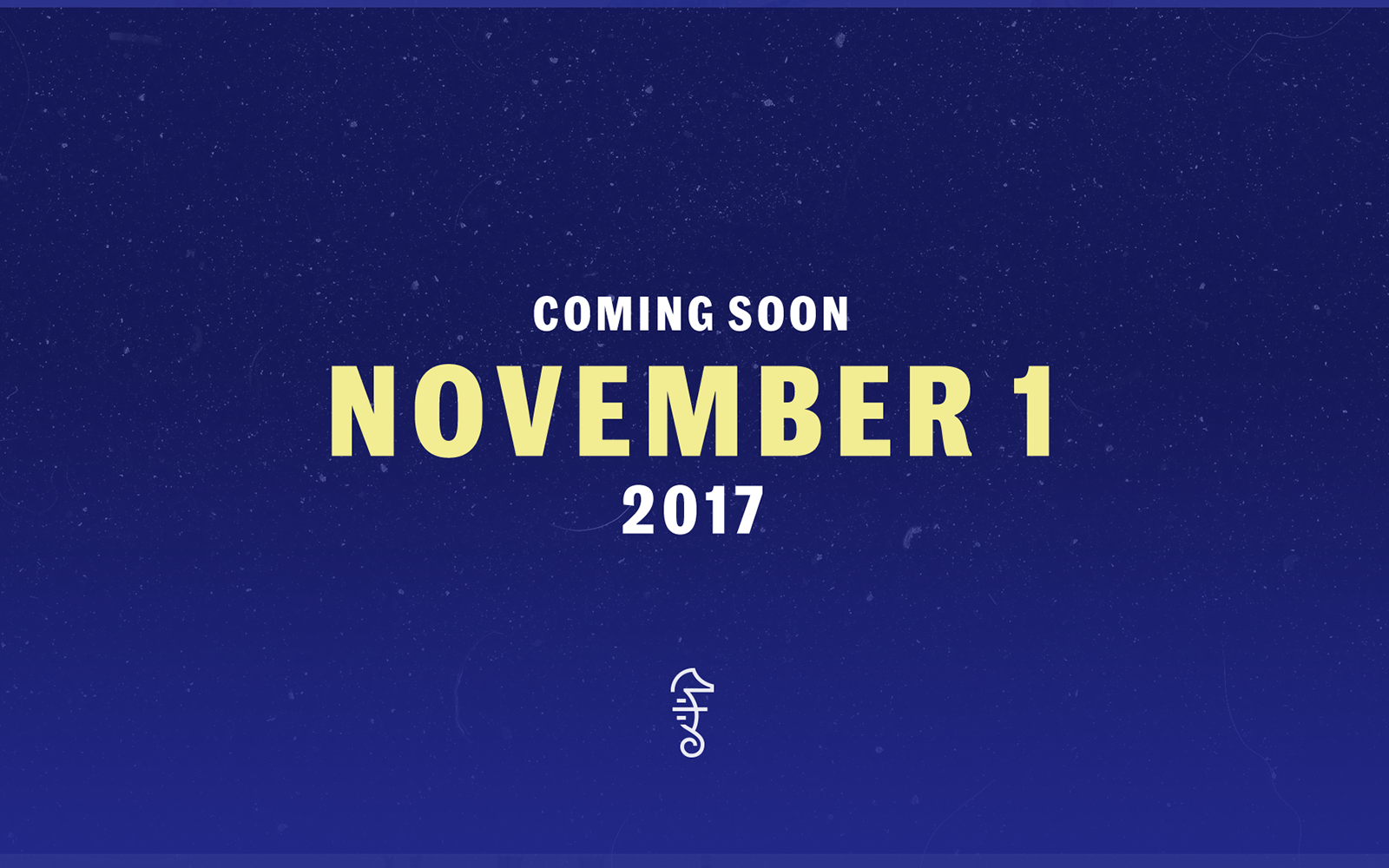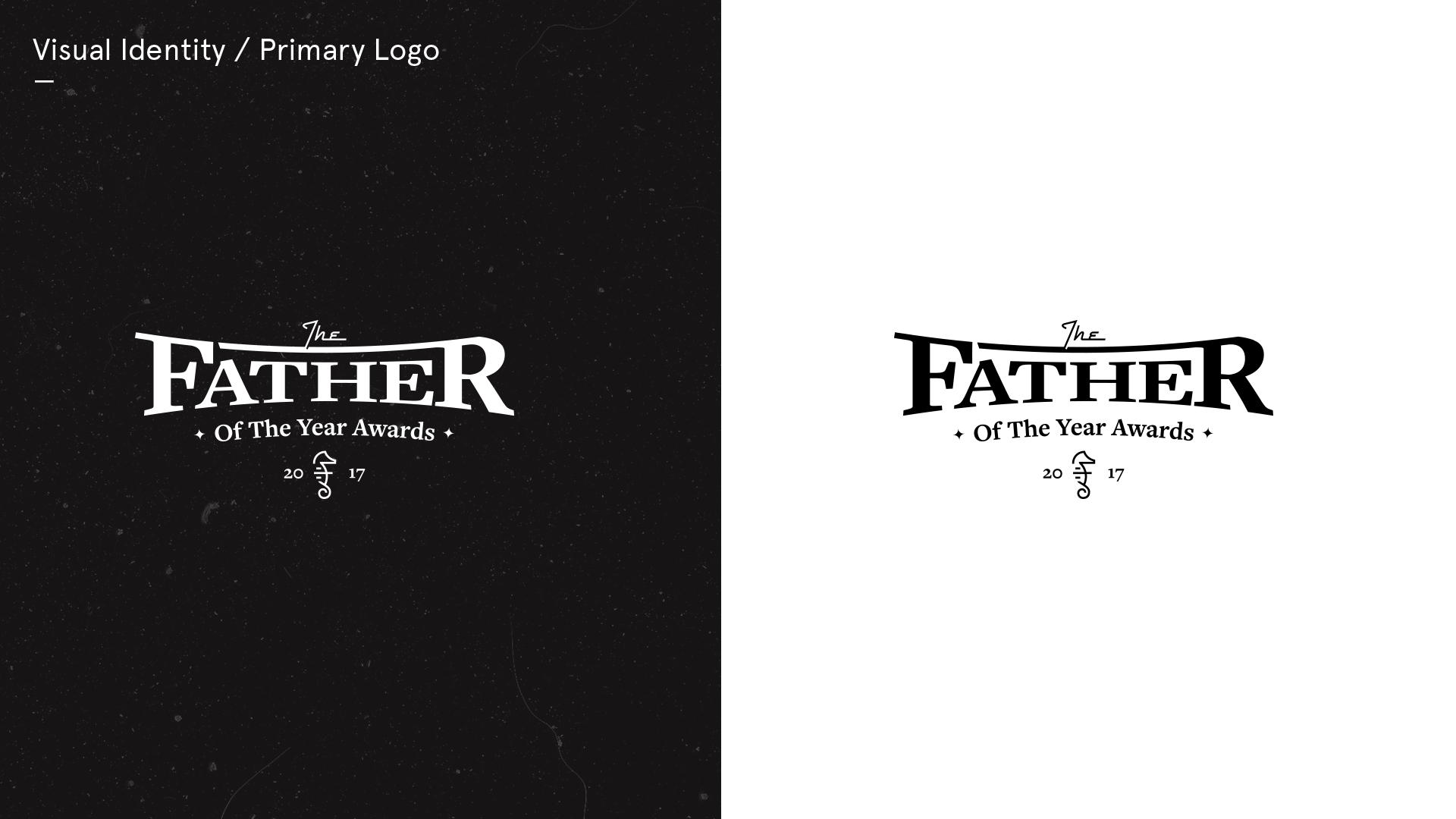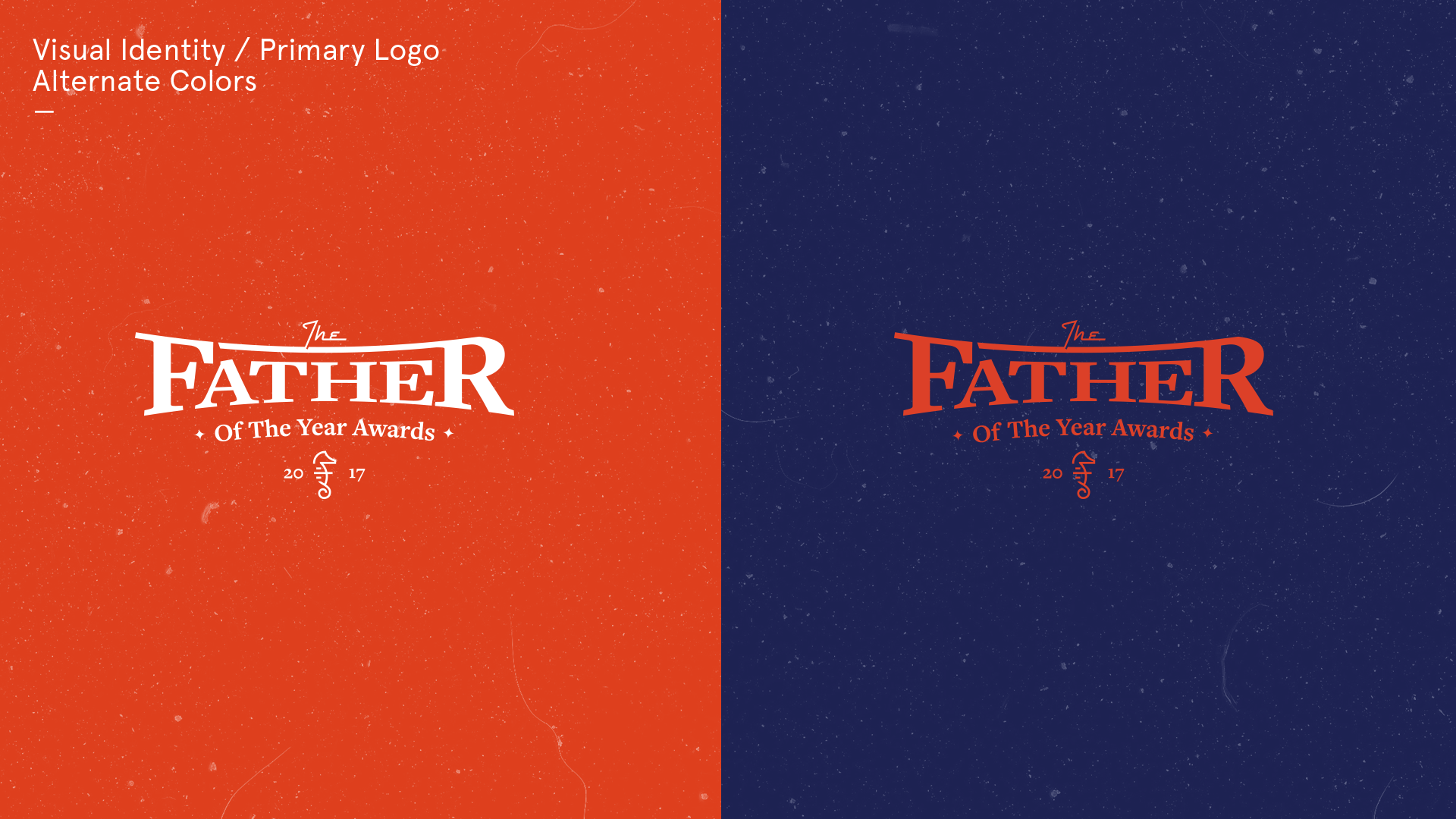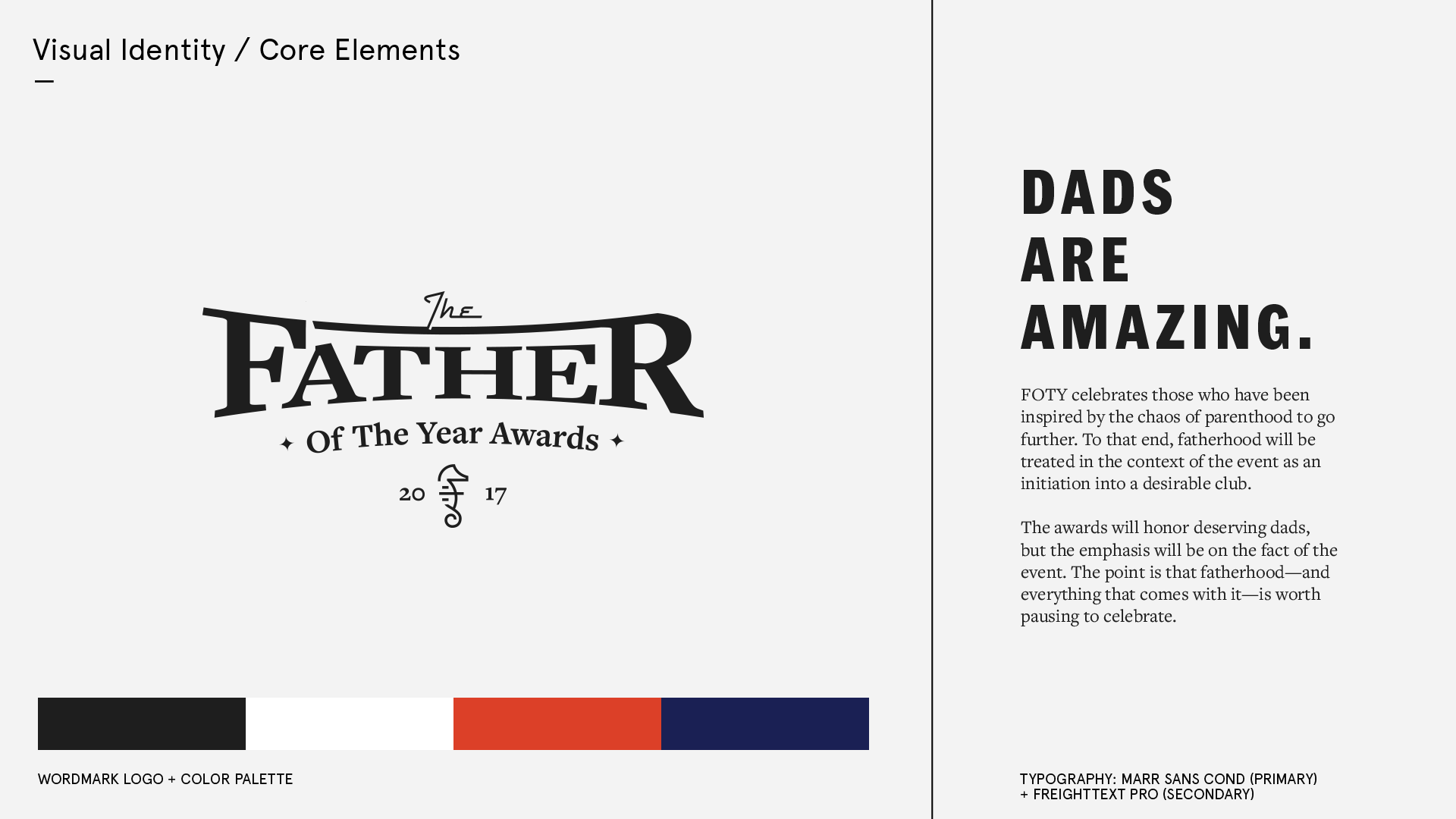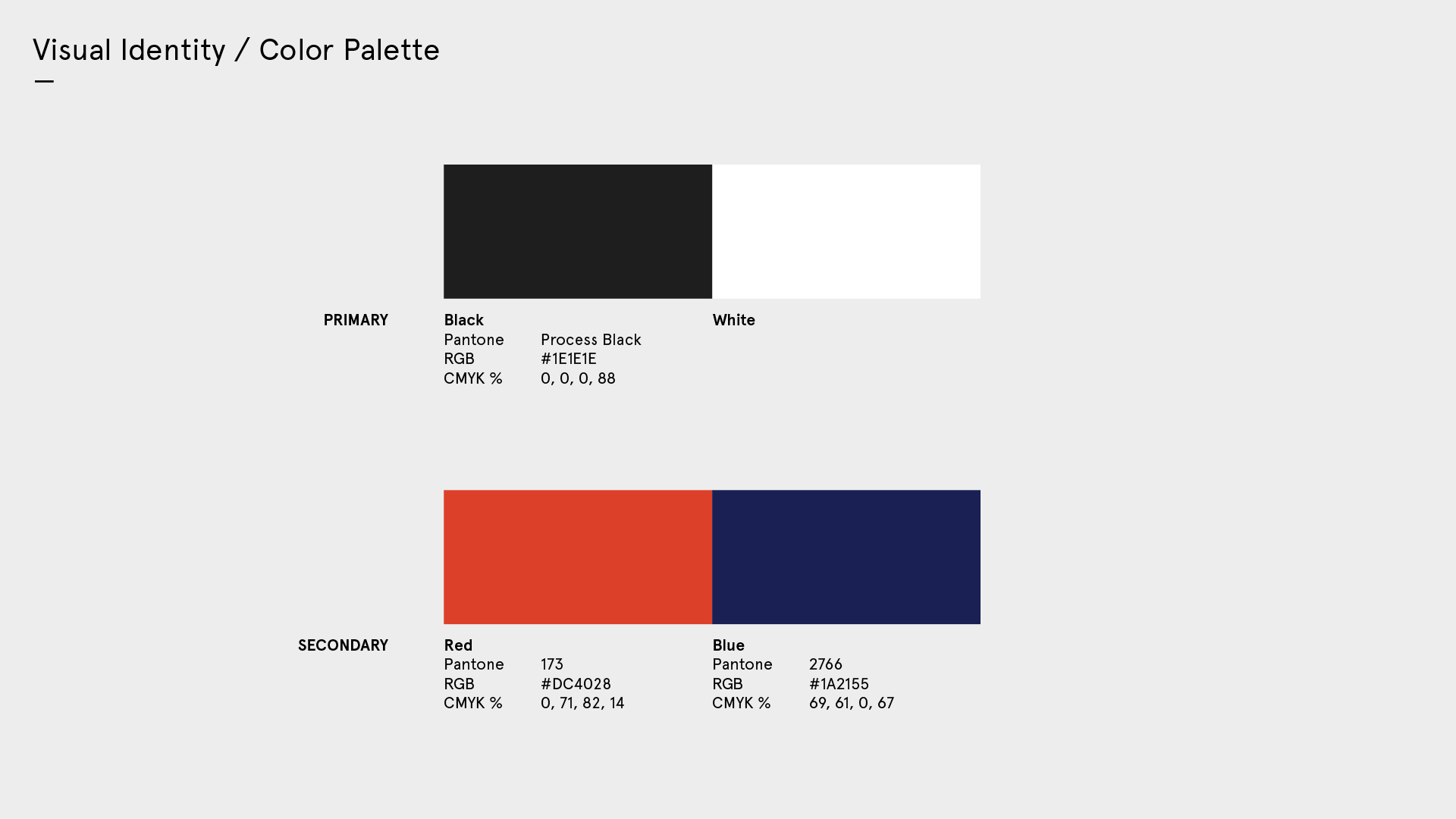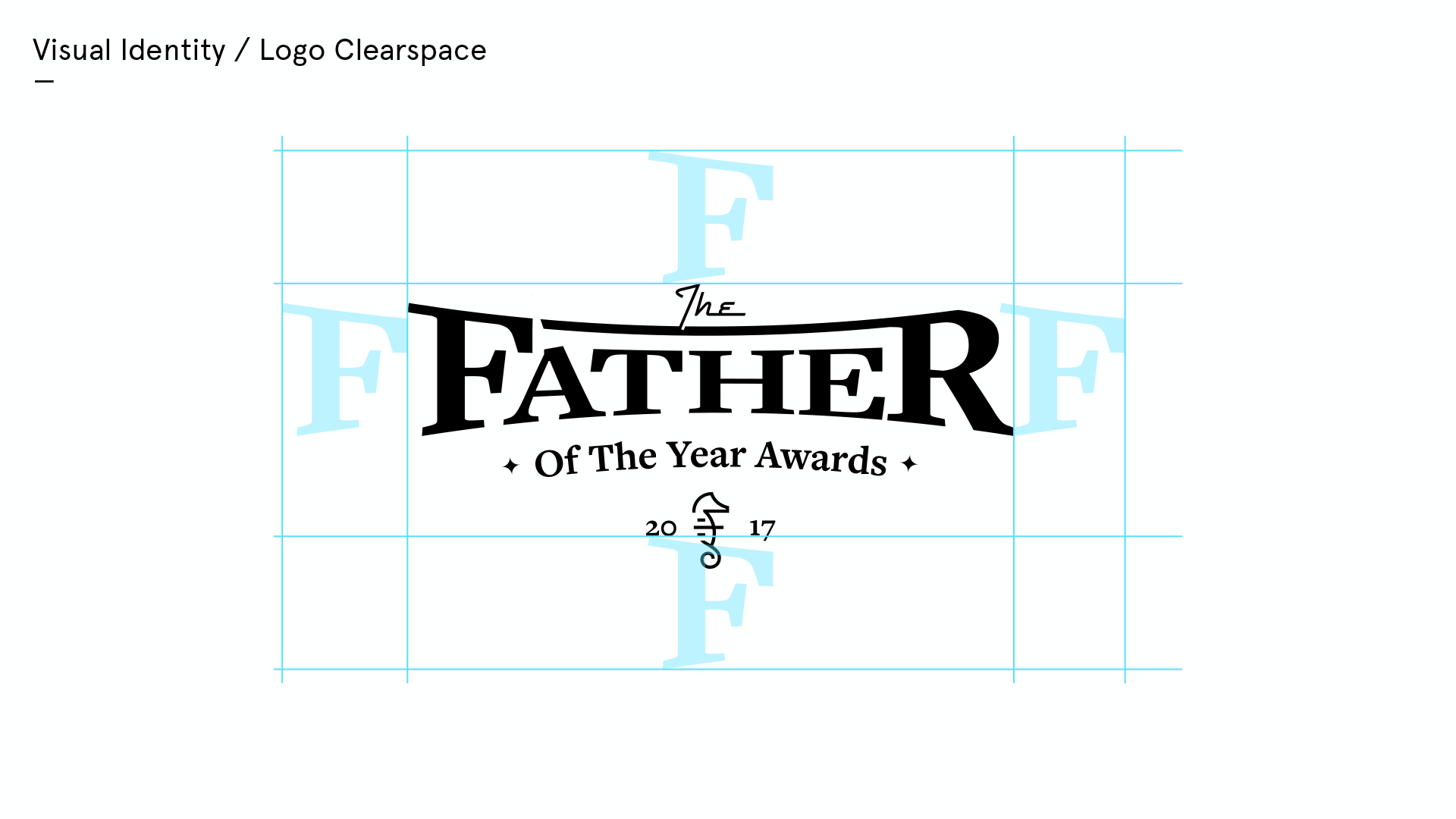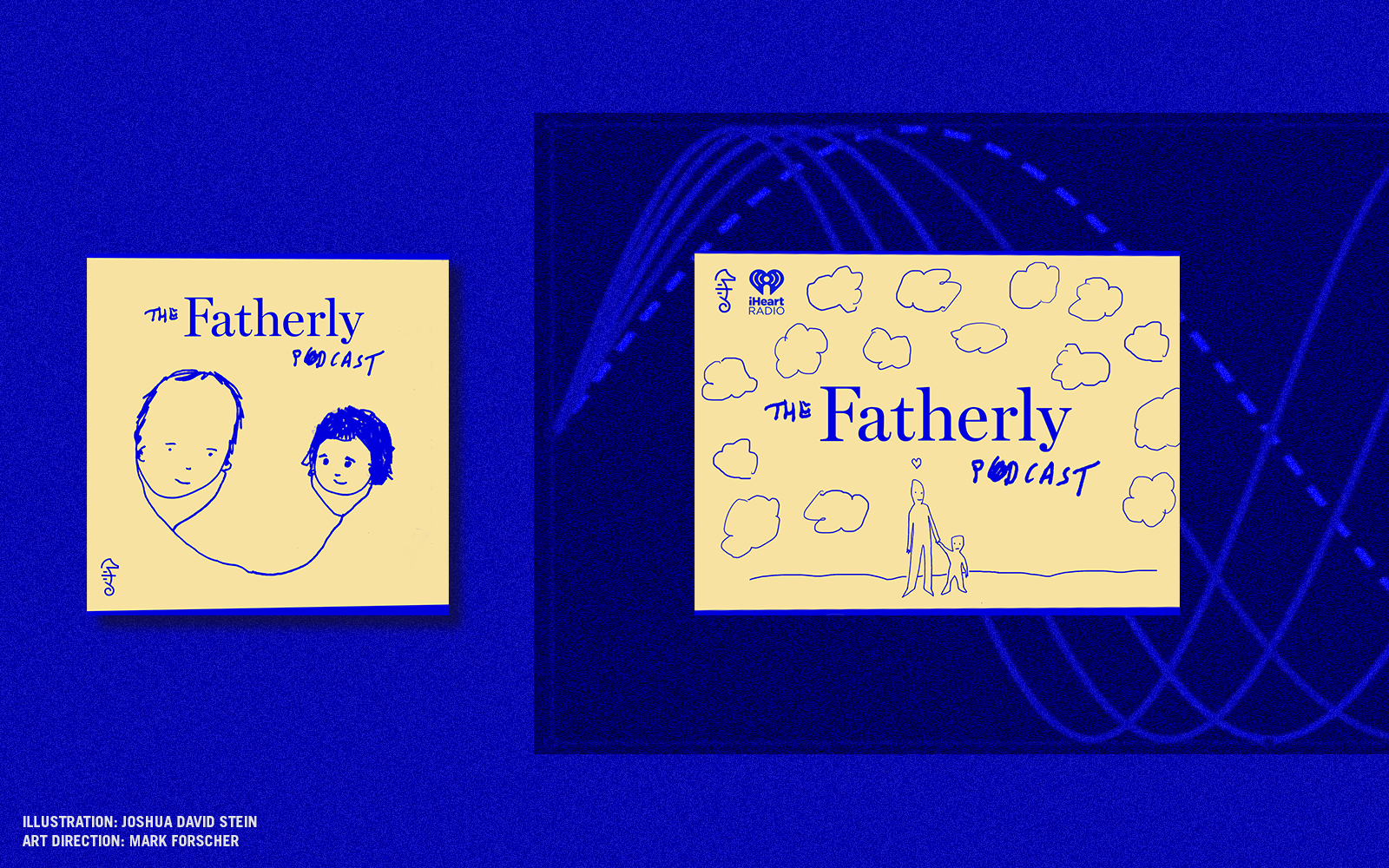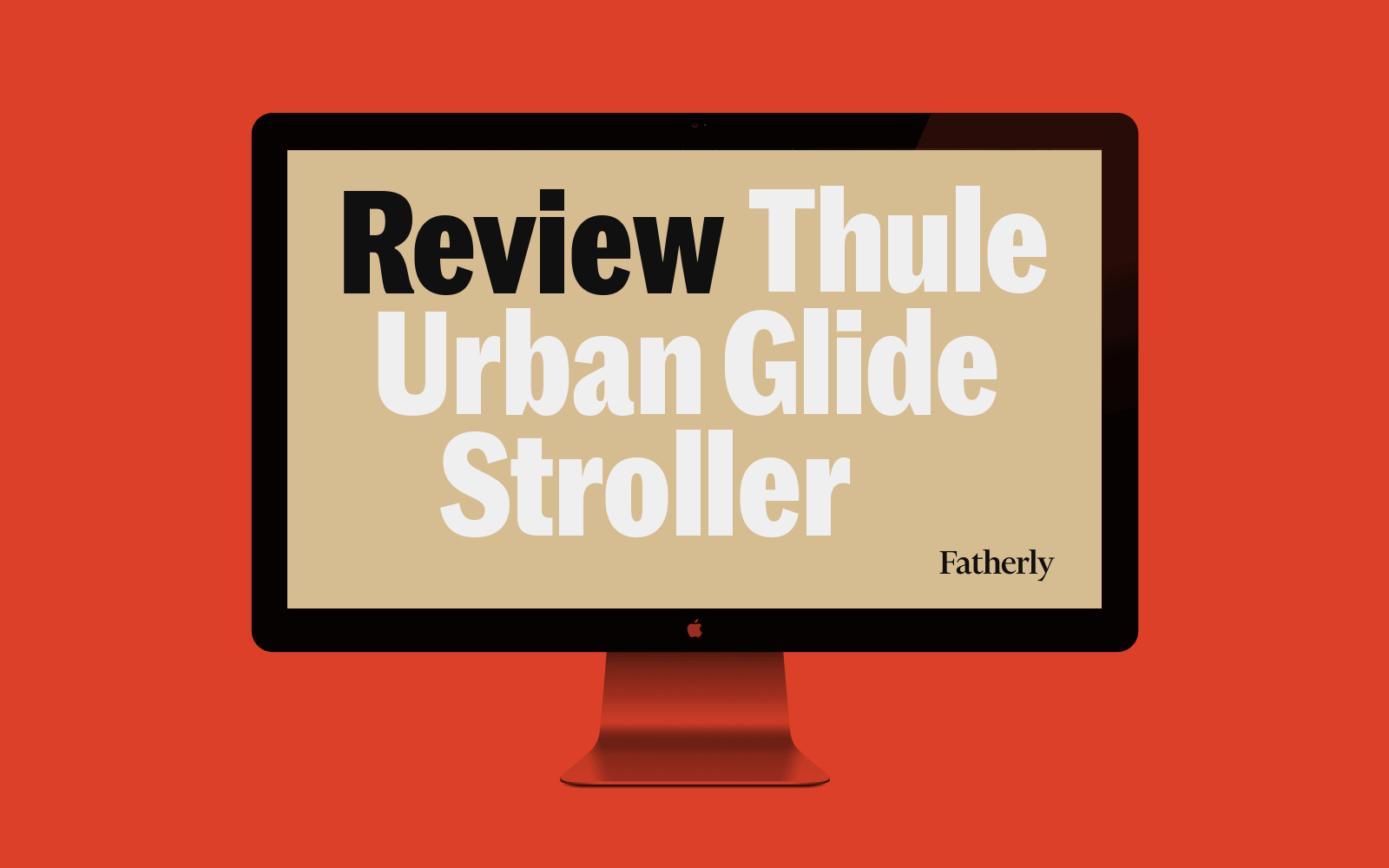 Extending the visual identity to video graphics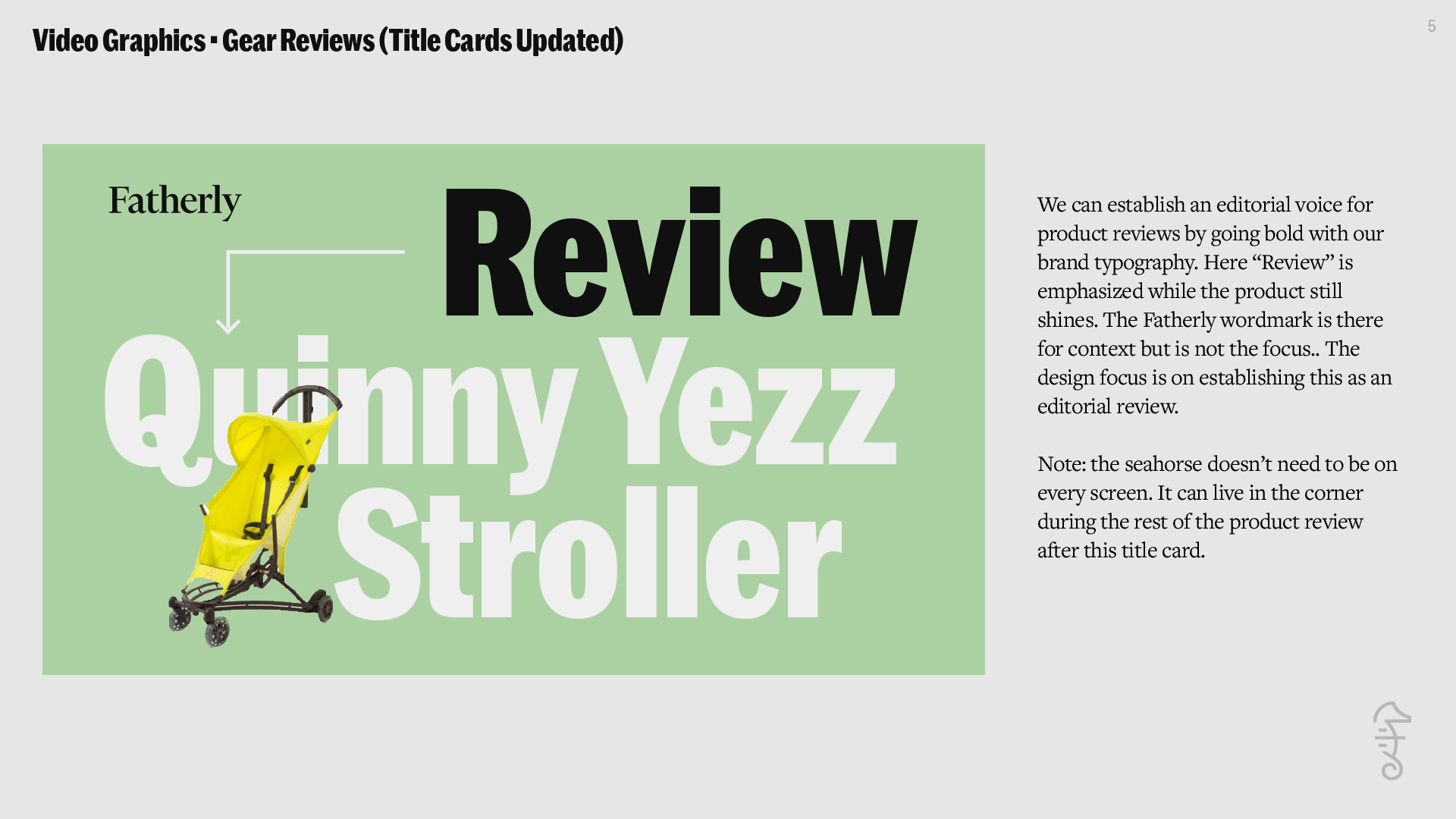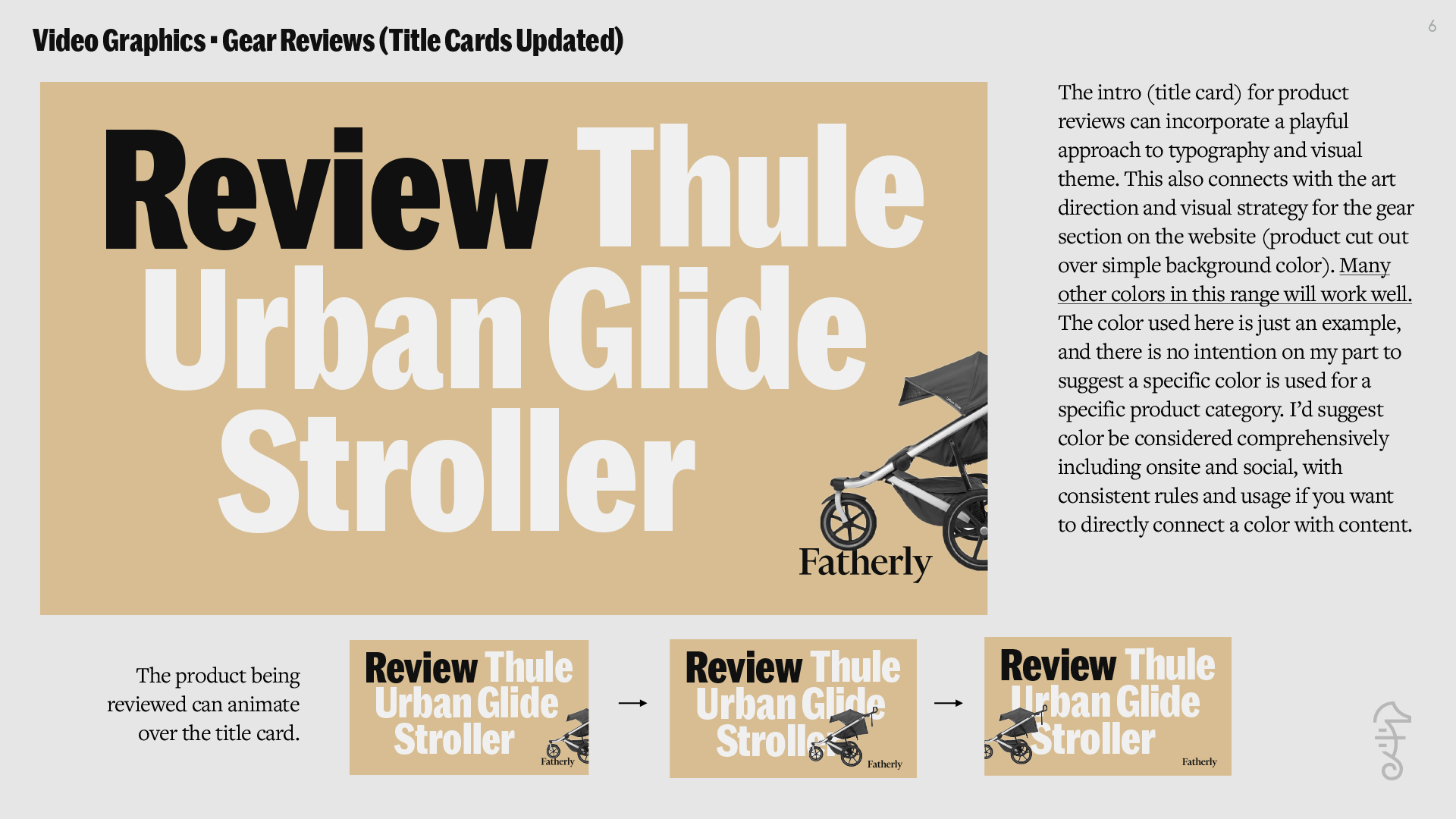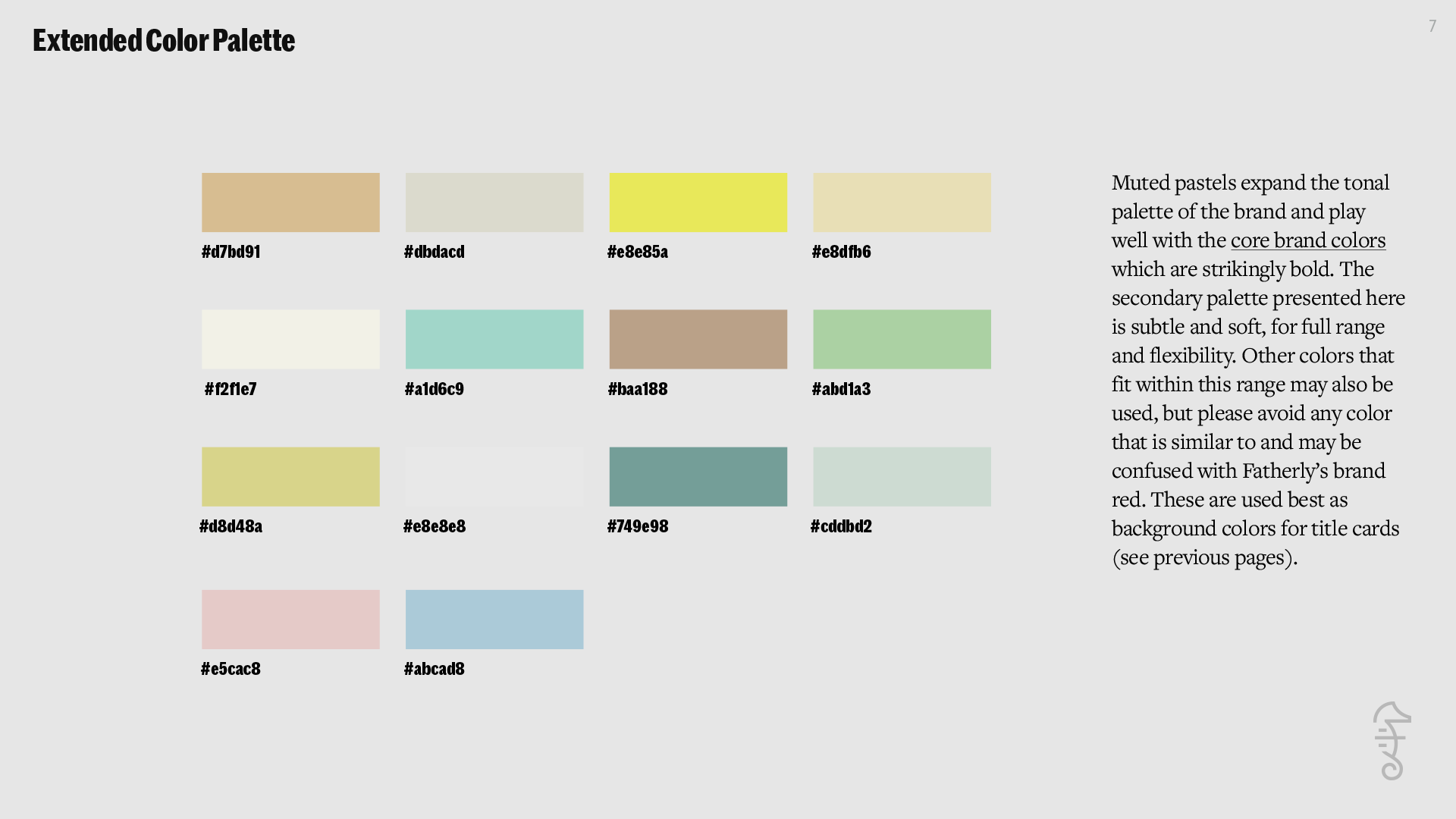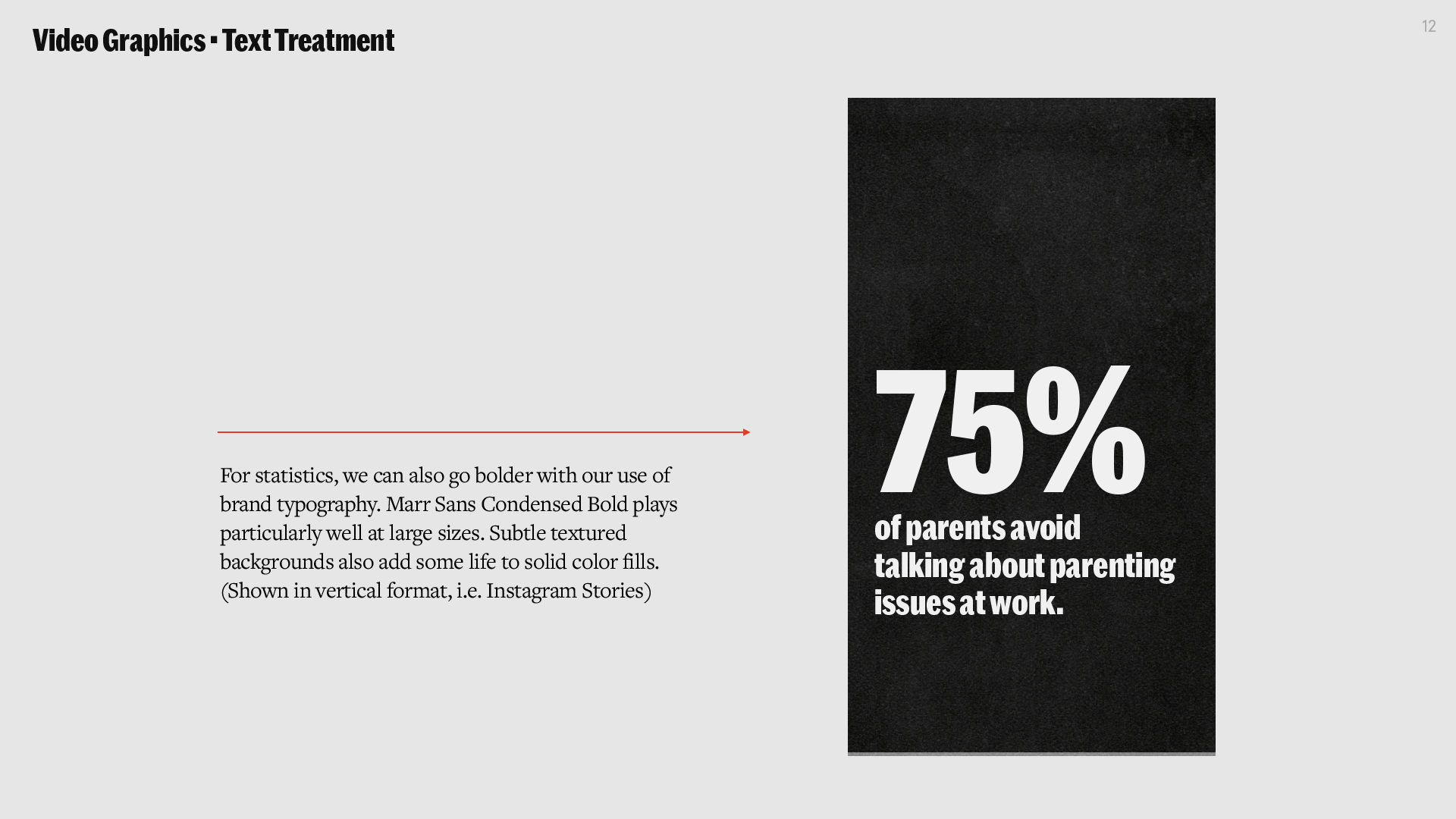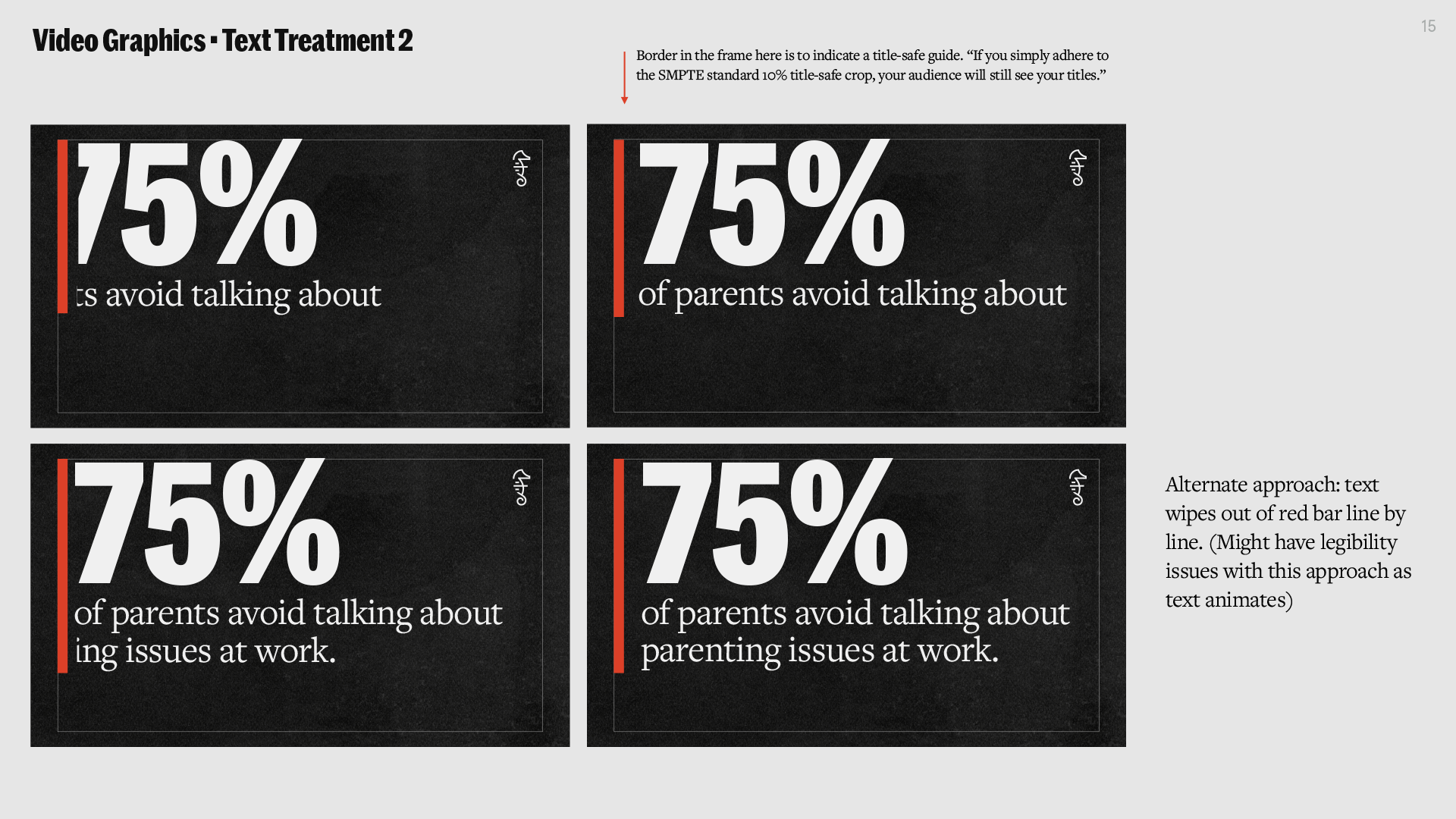 Product Director and Design Lead
As a consultant, I also served as the Product Director for Fatherly. In the nine months I worked with the company, there were no fulltime product or design employees. Fortunately, I was able to contract the talented Erin Nolan to work with me on the product design and audience development design needs, toward the end of 2017. She's fantastic and I'd highly recommend working with her!
In the Product Director capacity I was responsible for:
Gathering stakeholder feedback from across the organization (leadership, editorial, sales, audience development, video, etc.) and creating product requirements for discussion and review with defined feature sets, objectives and success criteria.
Creating and maintaining the product roadmap and regularly meeting with the CEO and COO to update the product priorities as business needs shifted. Implementing product management best practices.
Worked with the Engineering and Ad Opps teams to improve Fatherly's ad tech product offering and implementation.
Leading product kickoffs, reviews, regular status meetings and post-launch retrospectives with stakeholders from various teams.
Evaluating technical partners for development projects before a fulltime Director of Engineering was hired.
Managing the development backlog in Jira, defining actionable tasks and prioritizing the backlog for weekly sprint planning meetings.
Representing Product in leadership OKR planning and weekly management meetings.
He's a consummate professional and the rare breed that can competently tackle design, ux and product management all at once.
Mark worked with us on the very first wireframes of
Fatherly
through our brand redesign years later. He's a consummate professional and the rare breed that can competently tackle design, ux and product management all at once. Look forward to finding ways to collaborate with Mark
in the future."
—Michael Rothman /
Fatherly
/
Co-Founder & CEO
Feb 2018
View more testimonials →
Our refreshed logo and UX experience are so modern and clean and have received both internal and external praise.
As our interim head of product and design, ​Mark guided
Fatherly
through a re-brand and site re-design. His creativity, laser focus and passion shone through in each task he was assigned. Our refreshed logo and UX experience are so modern and clean and have received both internal and external praise. Working with Mark was such a delight and I would personally recommend him for any project moving forward."
—Lauren Coombs /
Fatherly
/ Head of PR
Feb 2018
View more testimonials →
He is a pro.
Mark worked for us at
Fatherly
[for 9 months] as our consulting, part-time head of product, but also of design, ux, and project management. He is incredibly skilled at each of these functions, immensely creative and talented, and really helped move our organization forward. He is a pro."
—Michael Wertheim /
Fatherly
/ COO
Feb 2018
View more testimonials →